Meet Penny Petree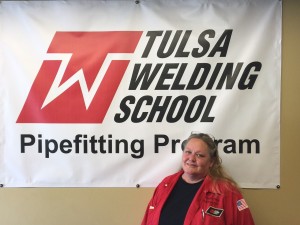 Penny Petree, from Pampa, Texas, is a pipefitting instructor at the Tulsa Welding School. Penny has been in the pipefitting field for more than 27 years, and she just celebrated two years at the Tulsa campus. Pipefitting seemed a natural career for this plumber's daughter, who started in construction on a bet…
So tell me about this bet Penny?
My husband and two of my step-sons were working construction, and I wanted to get into it. But they said I wouldn't last six months. I told them I just need to get a foot in the door, and I'll take care of the rest. 27 years later, I think I've won the bet…but they haven't paid up yet!
How did you move into pipefitting?
Have You Considered a Career in the Skilled Trades?
Fill out the form to recieve a no obligation info packet.
It was just something I knew. As a plumber's daughter I'd go out with my dad on different jobs, so I kind of knew more about that field than anything else. It seemed natural for me to slide in that direction. In 1995 I got my pipefitting certification back in Texas; it was the predecessor to the NCCER [National Center for Construction Education & Research] qualification that exists today.
The first 10 years of my career I lived in the Houston area, and worked mostly down at the Houston shipyard. For the first three years I did nothing but shutdowns and power outages. In the early days, the late 80s and early 90s, I had to travel around the country for work quite a bit, especially when slow-downs hit. My first husband, we were married 22 years, had emphysema and cancer; he was disabled for the last 12 years of our marriage, so the money I made at work was it. I had to go where the work was. When I made journeyman, I started working more new construction, more longer term jobs.
Is TWS your first teaching role?
I've taught pipefitting in the field, on the job site, but this is my first formal teaching job.
What made you move out of the field into teaching?
My husband has had eight heart attacks and three bouts of cancer and recovered from them all, so I thought it was time to retire from the field. This is actually my dream job; after I taught in the field, this is what I wanted to do. I just happened to run across the ad when they were looking for instructors.
As a girl, what did you want to be when you grew up?
They're going to laugh when they read this, but I wanted to be a comedian. I wanted to see people smile. They still think I'm a comedian around here sometimes.
Tell me something that most people don't know about you?
The one thing I miss is my grandkids; they live in the Dallas area.
What's your favorite music, book and movie.
I like all kinds of music, but I lean more toward country; that's what I grew up with. But I've been known to listen to classic rock and roll, even some Beethoven once in a while. Books: I guess I'm a kid at heart because I like those vampire romance books, The Twilight Saga by Stephenie Meyer. My favorite movie of all time is the new one, American Sniper. I'm an old John Wayne fan, but that movie is top of the list.
If you could choose to have dinner with anyone, alive or dead, who would it be?
My mom. I lost her when I was 15 and my dad when I was 14, exactly 18 months apart. I'd like to fill my mom in on everything that's been going on in my life. I'd introduce her to my boys, her grandkids and her great grandkids. I'd just like to sit and talk with her.
Take a moment to tell us about your family.
Nathan and I have been together over 12 years. I say we're married but without the pedigree because we never officially tied the knot. He worked construction for over 30 years, and job sites don't take kindly to married couples working together, especially in supervisory roles, so we never got around to it! Makes no difference to us, we call each other husband and wife. I have four boys. The eldest is my stepson, but I've had him since he was 10; he's 42 now. My eldest is 34, and I have a grandson that I raised from the time he was six months old; he's 28 now. My youngest 'baby boy' is 24.
We also have two boxer dogs, Abby and Marcus. They're our babies and are so very spoiled! Marcus is my big baby at 140lbs. Two cats complete the family.
If you weren't a teacher and money was no object, what would you do?
I'd have a home in the mountains with a glass room that has a hot tub in it. I'd sit in the tub with a hot toddy and watch the snow come down. I'd travel too, and I always said that if I won the lottery I would pay it forward. I'd make sure some kids had scholarships at TWS, and that the class I had at the time had the tools they need to go to work. And I'd see that class through to graduation too; you can't leave a class after they've started. I get very attached to my students; I call it the "mom" factor. I don't let my students run over me, but at the same time, I try to be understanding too.
What's the best piece of advice you'd give to new students who are just starting out?
Stay with it; don't ever give up. You're going to get more out of it than you put in. Attendance is key; you can't learn it if you're not here. So be here and put your heart into it because it will pay off.
What's your favorite part of the industry?
To stand back and look at your work when you're done, and know you've done a good job. You're a small, but important, part of a big deal.
What's your favorite tool?
A center finder. There are so many different uses, as far as finding different angles on pieces of pipe. You can use it on the underside if you're trying to center up a support, or if you need to attach another piece of pipe.
If you were to tell one person "Thank You" for helping you become the person you are today, who would it be and what did they do?
James Siros. He was one of my foremen when I came up. He gave me the opportunity. He told me that he didn't see me as a female pipefitter, he saw me as a journeyman pipefitter. He was a real good guy with a whole bunch of patience. He knew of my struggles at home with my first husband's illnesses. Back in those days it was nothing to have to work 14/16 hour days, and if I was struggling with something he'd take the time to help. If I ever felt like giving up, he wouldn't let me. I'm still in touch today; his wife and I call each other "sissy", and his kids call me "mom #2".
How was it being a female pipefitter in a male dominated field?
When I first started, I'd often be the only female in the field. Sure there'd be other women on the job site, but they'd be in the office. When someone asks me "How did you work with all those men?", I tell them "Heck – I was at home!" I grew up with 10 big brothers, and having had four boys myself, the men didn't bother me. I'm real forthright if you can't tell and I didn't let them run over me.
You get an unexpected afternoon to yourself, what would you do with that time?
I'd go pick up Nathan, my husband, and we would go fishing at the lake. He's my best friend, not just my husband. It's just real peaceful whether you catch anything or not. You're not at home, there's nobody there prodding you to get something done. If I'm with my brother we'll go out on his boat, because if you're on shore someone can get to you!
What super power would you like to have?
I'd like to fly! That would be great for those days when you feel everything piling up on you and you just want to run away. I used to ride motorcycles, and I could get on my bike and go ride for an hour or two, and leave everything else, all my troubles, at home.
This blog has been labeled as archived as it may no longer contain the most up-to-date data. For a list of all current blog posts, please visit our blog homepage at https://www.tws.edu/blog/