John Koelling, 68, is an electrical instructor at the Jacksonville campus. John has been in the electrical industry for almost 50 years, including seven years in the Marine Corps during the Vietnam War. John has been an instructor at Tulsa since January 2016.
Thanks for your time, John. As a boy, what did you want to do when you grew up?
Through high school I wanted to be a research chemist, but coming from a very poor family on the farm, I came to realize there was no way I'd be able to afford the college education I'd need. One thing led to another, and I ended up enlisting in the Marine Corps at the age of 17. I served from 1968 to 1975 before getting a medical discharge due to some injuries sustained in Vietnam.
Thank you for your service. When did you enter the electrical field?
I guess you could say that I started as a "civilian" electrician's helper in May 1976, so it's been a day or two! But I actually got some electrical training in the military. It wasn't on the kind of things we work on in the civilian electrical world, but rather electrical circuits in jet airplanes and weapons.
Have You Considered a Career in the Skilled Trades?
Fill out the form to recieve a no obligation info packet.
After your military service, why did you choose a career in the electrical field?
I just went back to the military training I'd received and thought I'll try it. It ended up being something that not only did I understand, but also became very good at. It seemed to come easily to me.
Thinking back to your time in the field, what was your favorite part of the job?
When I first started in 1976, I worked for a company that did nothing but residential. I got to be very good at it, but I felt that I wasn't getting a well-rounded education in the trade. After five years, I went to work for a company that did only commercial work. It was very much a culture shock, but I learned how to do it. I got very good at that.
Then I moved to a company that did industrial work in plants and paper mills, and that was fantastic! That's the area I enjoyed the most.
Most electricians today don't want to get into industrial work because it's harder, it's higher voltages and it's hotter. If you're dealing with 120 volts in residential, you could be dealing with several thousand volts on an industrial circuit. The funny part about it is, the guys who are used to working industrial don't want anything to do with the lower voltages, and the guys working residential don't want anything to do with the higher voltages. As a result, a lot of the industrial electricians are getting toward retirement age. The ranks are getting very thin. It's not going to be long before someone who knows how to do industrial work can name their own wage because there's nobody left to do the work.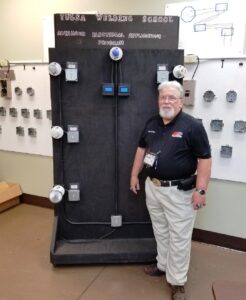 Had you taught electrical before TWS?
Tulsa is the 4th college I've taught at. I started teaching full-time in 2002, several years after I got my Master Electrician License, but in reality I've been teaching my entire career. I've always had a problem with craftsmen—electricians, plumbers, welders or whatever—who are scared to teach their helpers anything. I think they're scared the helper will learn too much and take their job away! I was just the opposite. I wanted to teach my helper or apprentice as much as I possibly could. I wanted someone who could work alongside me, not just fetch this and that.
You have several licenses and certificates in a variety of areas. Do you enjoy learning?
You could say I'm a professional student. My dad always said if you go through an entire day without learning anything, the day was a total loss. I try to learn something every day, even from the students I'm teaching. Nobody knows everything there is to know. We can all learn something from each other.
What do you enjoy most about teaching?
What I enjoy most about teaching is seeing the light bulb come on in a student's head when they grasp what you're explaining. When they understand the concept of how something works, in many cases, it makes them hungry to know more.
If you could have dinner with anyone, alive or dead, who would it be?
One would be Nikola Tesla, just to learn more about things that he invented or discovered. He was trying to find a way to capture a lightning bolt and store it in the ground for future use. What that would mean for you and me is that we could go out in the middle of nowhere, build a house, drive a ground rod into the earth and have electricity. I'd love to know how close he was to some of these ideas.
The other is James J. Davis, the first Director General of the Loyal Order of Moose, which I'm very active in. He concentrated on caring for underprivileged children. I'd love to talk with him about what his other ideas were toward that goal, because that's what the Moose is all about—taking care of the very young and the very old.
Tell me something that most people don't know about you?
I'm very busy most of the time, but I really enjoy the simpler things: lying in front of a roaring fireplace, or playing chess or checkers, drinking hot cocoa! I seldom get the chance to do the simple things.
What's the best piece of advice you'd give to new students who are just starting out?
That's easy: Never stop learning!  With today's rapidly changing technology you could learn something today, and tomorrow it could be obsolete. Also, accept that everybody can teach you something. The more you can learn about your trade, the more valuable you will be.
What's your favorite tool? What could you not do without?
My brain. If a book says do it this way but something comes up and you just can't do it that way, you have to be able to think your way around the problem. You need your brain to troubleshoot and solve problems.
If you were to tell someone "Thank you" for helping you become you, who would it be, and why?
That would be my stepfather, whom I called my dad. He taught me how to use my head and think ahead so I could get something accomplished. As I said before, his big thing was that you need to learn something every day, and I really appreciate him for that.
This blog has been labeled as archived as it may no longer contain the most up-to-date data. For a list of all current blog posts, please visit our blog homepage at https://www.tws.edu/blog/