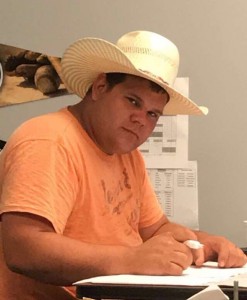 Casey is a Welding Specialist with Pipefitting Senior Instructor at Tulsa Welding School & Technology Center in Houston. Casey, aged 32 from Blackwell, OK, graduated from the Welding Technology associate  degree program at Tulsa Welding School (Tulsa campus) in 2011. He has been in Houston for two and half years.
Thanks for your time Casey. How long have you been in the field?
I've been teaching here in Houston for two years, but before that I had five years welding and about eight years pipefitting experience. I moved to Houston because this is where the opportunities are; it's where the work is. I actually came down here for an inspecting job, but it was kind of divine intervention that I discovered Tulsa Welding School was hiring here in Houston. I actually came in to the Houston campus to brush up for a welding test elsewhere when I learned about the instructing job.
Tell us about your early career.
I was very indecisive about what I wanted to do after high school. I was fascinated by technology, so I started working in IT at 18. I worked for Gateway Desktop Technical Support and from there I went to Blackwell Public Schools as IT Administrator before I realized, after a couple of years, that I didn't really like IT that much.
Have You Considered a Career in the Skilled Trades?
Fill out the form to recieve a no obligation info packet.
So what did you do next?
I started working with my hands. I was fascinated with what I could build, put together, and weld up. I started work at a company called Mertz Manufacturing in Ponca City, Oklahoma in 2004. They do work for a bunch of big companies. I started pipefitting there and did a little bit of welding. I was there for almost six years. After I left Mertz I moved to Tulsa in 2010 to go to Tulsa Welding School and polish up on my welding skills and get my AOS degree [Associate of Science in Welding Technology]. I graduated in 2011.
What made you decided to go into teaching?
To tell you the truth, I never really thought I was up to par to be a teacher. I didn't think I was good enough to teach at Tulsa Welding School, the best welding school in the United States. Then Casey Conrad and Richard Pemberton (two other instructors at TWSTC) talked to me and convinced me otherwise. So I started doing it, and I instantly knew that this was my calling – that this was the job that I'm going to retire from.
What do you enjoy most about teaching?
When I started it was a job that I enjoyed, but now it's so much more than a job. When you see students graduate and come back to tell you that they're making more money than you are, that really feels good. Graduates reach out to me on social media, text messages, and emails all the time.
Why did you choose to teach at Tulsa?
Tulsa is where I went to school, and I was fond of it. It would be kind of a betrayal to go teach somewhere else. Plus, it's the greatest welding school in the nation!
Why should students choose Tulsa Welding School?
I'll just tell you what my students who have done their research on other trade schools have told me. We do 80% of our time in the shop, 20% in the classroom. No other school around here matches the actual in the shop burning rods or fitting pipe time. I believe it's a lot more bookwork and a lot less hands-on at other places. I feel like if you're choosing trade school, you're probably the kind of person that wants to learn hands-on, so you're not going to learn as much from a book as if you were actually doing it.
Tell me something that most people don't know about you?
One of my main hobbies is I like to do Arduino; it's robotics and programming. I build robots with my welding skills and program them with my computer skills! I also like to ride motorcycles.
If you weren't a teacher and you could pick your job, where would you be?
I'd work for Elon Musk at SpaceX.
If you could have dinner with anyone, alive or dead, who would it be?
My grandpa. He was my role model growing up. My mom was raising me all by herself, so he would help out. He had a job in the oil fields as a roustabout so he could take me along with him. Really he was just babysitting me, but I learned a lot from him as far as using my hands and how to work on things. We never really got to say goodbye properly. He died the morning of my ninth birthday.
What's the best piece of advice you'd give to new students who are just starting?
If they like money, the cost of welding school isn't that much to pay back for as much money as you can make in this field. If you work hard, get a good paying job on graduation, you could pay that loan off in the first year if you're being responsible. The reward versus the risk on this is great. I don't know many business majors who could pay off their college loan within the first year.
What's your favorite tool? What could you not do without?
My favorite tool in pipefitting has to be the plum bob. They used it to build the pyramids, and it's still used today. I like it because of its simplicity, and it's lasted through thousands of years of use unchanged.
Thinking of your time in the field. What was your favorite part of the job?
Impressing people. I'm not trying to sound conceited or anything, but when somebody steps back and says "Damn, you did that?" or "you built that?" or "you welded that?" – It gives you a sense of pride.
Tell us about your family.
I'm not married, but I have a 9 year old son, Braden. He's in Oklahoma right now, but I see him every other weekend. He's fascinated with welding; he loves it every chance he gets he goes to the school. Throw some gloves, a hood, and a jacket on him and he can weld. He actually has T-plates on the student tree at the school. It has his name and age on there.
You get an unexpected afternoon to yourself. What would you do with that time?
I'd catch up with my to-do list; that would free up my weekend a little more.
If you were to tell someone, "Thank You" for making you who you are today, who would it be & why?
It would be an old man named Curtis Hicks. He took me under his wing in 2004 when I first started at Mertz Manufacturing. I had a good understanding of how things worked, but he taught me the rest that I needed to be successful; he basically taught me to pipe fit.
This blog has been labeled as archived as it may no longer contain the most up-to-date data. For a list of all current blog posts, please visit our blog homepage at https://www.tws.edu/blog/